For the hobbyist it's a case of good news, bad news, the good news being that diagnosis is easy as the parasite is so large it can easily be seen with the naked eye as the fish swim past, the adult anchor worm can measure up to 8 mm in size. The bad news is that as an organism it is extremely resistant to chemicals and can be hard to be eliminate.
Lernaea belongs to a genus class called Copedoda and are crustaceans, related to lobsters, crabs, it's life cycle is amazingly complex and goes through many stages of metamorphosis, needing to shed its outer skin to increase in development and size, starting as a newly emerged hatchling a few microns in size to an adult measuring up to 8 mm in size.
The easiest gender to deal with from the literary point of view is the male Lernaea as this never gets beyond the sixth metamorphosis stage. Both genders reach sexual maturity at the sixth stage and then mating occurs.
The male having developed testes at stage six will deposit two sacks called
spermatophorse
on the genitalia of the female and then fall away and die, his life cycle complete.
In general the metamorphosis stages of both genders are very similar up to the sixth stage and the death of the male, then the female goes on to embed into the host. We can see from this, that all Lernaea found embedded on the host are female and only female.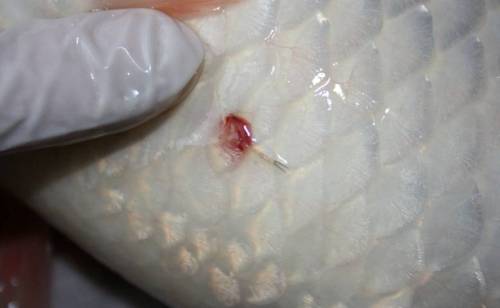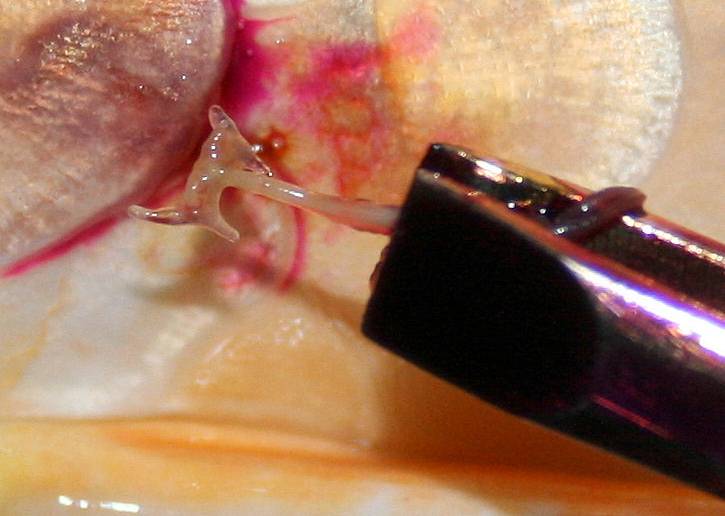 The cycle begins with the newly emerged hatchling called the Nauplii,( pronounced "no-pLE-eye") which is oval in shape measuring about 150 micron in length, after 2/3 days this stage will moult and morph into the next stage the metanauplii, which is a little larger, as with the Nauplii it has an exoskeleton made of substance called chitin (pronounced as "kI-tn").
The first thoracic stage will be seen about 2 days after the metanauplii is created, shortly after this the first copepod