somebody asked me about removing salt form a pond , wrote this years ago i thought it was on site on koiquest homepage but could not find it
so being as i was due an article i thought i wouls post this for your persual
I have made statements in the past as to what a absolute' pig' salt is to remove once in a pond system, so I thought I had better quantify it.
Assume your pond is loaded up with your required level of salinity it could be 0.15% or 0.3% this would be our 100% salt load (not the concentration) and you want to get clear of it by doing either 10% partial water changes or 15% partials. Below shows a table of exactly what percentage of the total salt load you get rid of every time you perform either a 10% or 15% water change
The only time you get rid of 10% or 15% of the salt is the very first time
you do a 10%or 15% partial there after you have to continually increase the
percentage of the partials in order to get rid of 10 or 15% of the salt
content each time. Because you are diluting the remaining percentage of salt
by top up's and removing 10 or 15% of the now new dilution. This si a principle called "diminished returns"
If you continue with 10/15%partials this is what happens.
Below is a chart each partial is 10% and 15% respectively, and don't forget you are likely adding salt back to the system as tap water can be as much as 0.05% salt
10 percent partial water change outs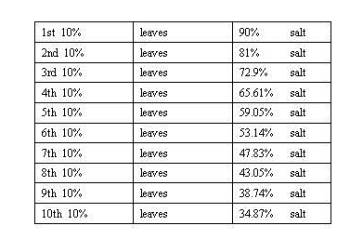 At this point on or about the 100% water change mark changing water out at 10% per time, most folks think the salt is all but gone. As the data shows this is not so! if you don't believe it? Just taste it! But lets just carry on doing 10% water change outs, and see where it bottoms out, starting from 100% above where we left off.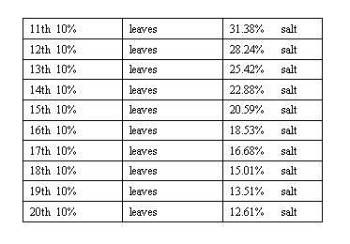 That's a 200% water change and the above figure's in % show 12.61% of the original salt dose still left in the pond
believe me the more you carry on with the math's the sillier it gets
and these figure's assume you have not added any more salt in the mean time
the above more than demonstrates the following
Same again doing 15% partial water change outs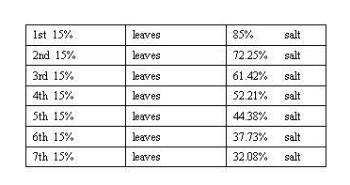 This now effects a 105% water change in 15% partials water change outs and shows 32% salt left , but lets carry on doing 15%'s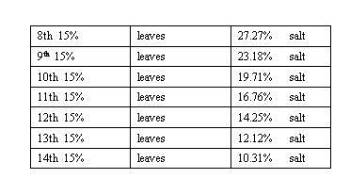 That affects a 210% water change@15%partials an we still have 10.31% left
Conclusions
1 don't use it unless you really have to
2 if you must use it get a salinity meter you can see where this will lead
to, given the guess work in what's been added and taken away.
3 if you follow the data down although they start off very different in the
amounts of salt being taken out 10% partials verses 15% partials. By about
the 100% water change points in both examples they have roughly caught up
with one another there is virtually no difference although one pond is being
emptied by 5% more than the other
And if you think you can do it by doing larger water changes try 45% below just for fun
100 %
55
30.25
16.6375
9.150625
5.0328438
2.7680641
1.5223776
0.8373077
0.4605193
0.2532857
0.1393072
0.076619
0.0421405
0.0231773
0.0127476
0.0070112
0.0038562
0.002121
0.0011666
0.0006417
0.000353
0.0001942
0.000107
0.000059
0.0000325
0.0000179
0.0000099
0.0000055
0.0000031
0.0000018
0.000001
0.0000006
0.0000004
0.0000003
0.0000002
0.0000001
.000000000
Not strictly the end but the calculator comes up tilt towards0.0000004